More information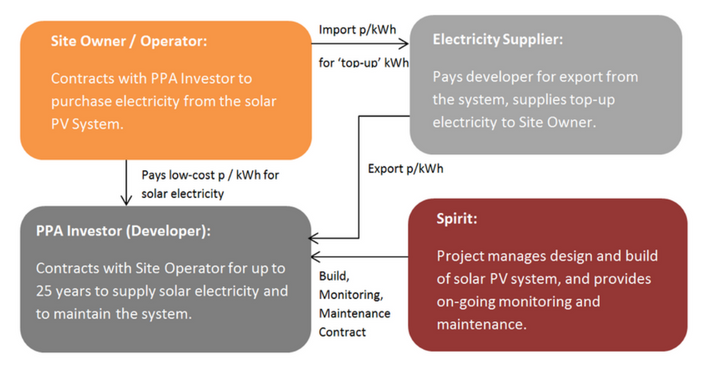 A Solar PPA or Power Purchase Agreement is an agreement under which a PPA investor (developer) arranges for the design, financing and installation of a solar PV system at a commercial site, at no upfront cost to the site operator (usually, but not always, the site owner).
Spirit's role is to provide initial design and installation, as well as on-going monitoring and maintenance services to the developer, with end-to-end project management using our in-house design and installation team.
The developer sells the power generated to the site operator at a fixed rate that is below the rate available via the grid. This lower electricity price serves to offset the customer's purchase of electricity from the grid.
As well as receiving income from the site operator, the developer also receives the Feed-in Tariff in respect of any solar energy generated, as well as an export tariff in respect of any solar energy exported to the grid.
The term of a solar PPA is typically 25 years. The developer is responsible for the operation and maintenance of the system for the duration of the agreement. At the end of the PPA contract term, a customer may be able to extend the PPA, have the developer remove the system or choose to buy the system from the developer, usually for a peppercorn amount (£1).